Logitech has revamped its whole gaming segment with its g series. The Logitech g430 gaming headset is one of the launches in the G series. As the name suggests, it is a gaming headphone. These headphones are available for 140$ on amazon. If you have seen the Logitech G230 earlier, you will feel it is similar.
Or we can say that it's a Logitech G230 successor. What exactly are the changes, how's the sound, should you consider buying it? You will get to know all your answers. So keep reading till the end.
Quick Specifications
| | | |
| --- | --- | --- |
| Sr.N | Features  | Specifications  |
| 1 | Brand | Logitech |
| 2 | Colors | Blue/Black |
| 3 | Design Type | Over the Ear |
| 4 | Weights | .504lbs |
| 5 | Dolby Atmos Support | Yes |
| 6 | Dolby version | 7.1 |
| 7 | Driver's Size | 40mm |
| 8 | Memory Foam | Yes |
| 9 | Battery | Single 1A Battery |
Logitech g430 Gaming Headset Sound Quality
Talking about the sound of this g430 headset, it's decent. The sound is reasonably loud; it is not the loudest, but loud enough for most users. Don't expect immersive sound from this, as it comes at a budget-friendly price.
While listening to music, you will not feel any distortion. Moreover, there are no issues with music frequency at all. The headphone syncs correctly with the music frequency. So you will be able to enjoy listening to music using these headsets.
If we talk about the mic quality of the G430, It is decent. Do not expect top-notch quality on this budget. However, it's good enough to communicate while playing games with your friends. On the other hand, if you compare these with professional microphones, you will definitely notice the difference. If your priority is mic quality, then there are better headphones, but it gets the job done.
Logitech g430 Gaming Headset Surround Sound 7.1
Earlier, I stated Logitech g430 as the Logitech G230's successor. While other features and physical aspects are very similar, the most significant difference is the surround sound 7.1. Unlike regular headphones, listening to music and watching is much more fun with surround sound.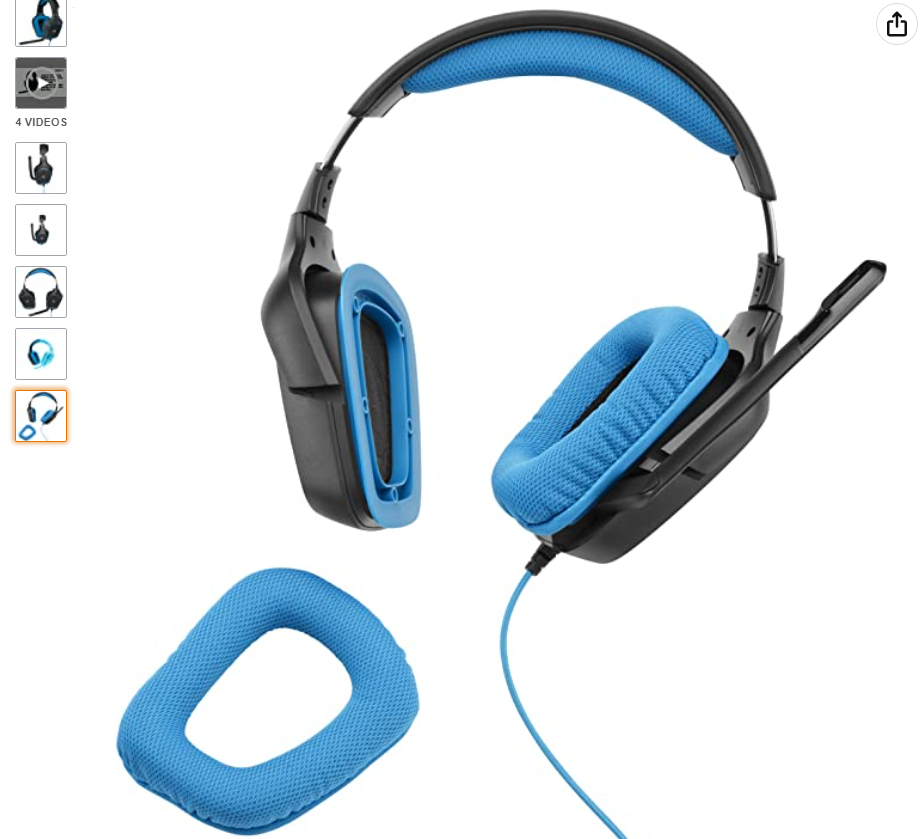 Where standard headphones produce flat sound, surround sound gives immerse sound experience so you can enjoy everything you listen to. In addition, the Logitech g430 has a feature that, generally, the regular headphone doesn't. While talking, you can hear your voice. This is something we don't see often.
Bass Levels
Another essential aspect of a headphone how's the bass. Although the bass is subjective, some people like heavy thumping bass, whereas others like balanced bass. Now back to the question how's the bass of the Logitech g430?
During the test, I found that it has a decent base. However, the 40mm drivers it has doesn't produce too much bass. If you are someone who loves that thumping bass, you will not like it much then. On the other hand, if you want balanced bass, it will serve you better.
Another thing to note here is that you don't need too much bass on a gaming headphone. This is because heavy bass can prevent you from listening to small details in sound. As a result, it can hinder your gaming performance.
Gaming Performance
The gaming performance of the sound is different from its musical performance. To be honest, it is supposed to perform better. Being gaming headphones, we can see better performance while gaming. During my testing with multiple games, I observe that.
For instance, I could hear the enemy's footsteps clearly. The firing sound and other background sound was crisp and clear. In addition, you can distinguish between the left and right side sound correctly. Overall, the gaming performance is good.
Design and Build
The thing I liked most about the g430 is the beautiful design. It has not only an excellent visual design but also good build quality. It is made using high-quality plastic, although it can be metallic. I can't complain much because of the price.
The blue and black pattern on the headphone looks eye catchy and gives a gaming vibe. That is why many gamers build these two colors in the studio or cabinet lighting.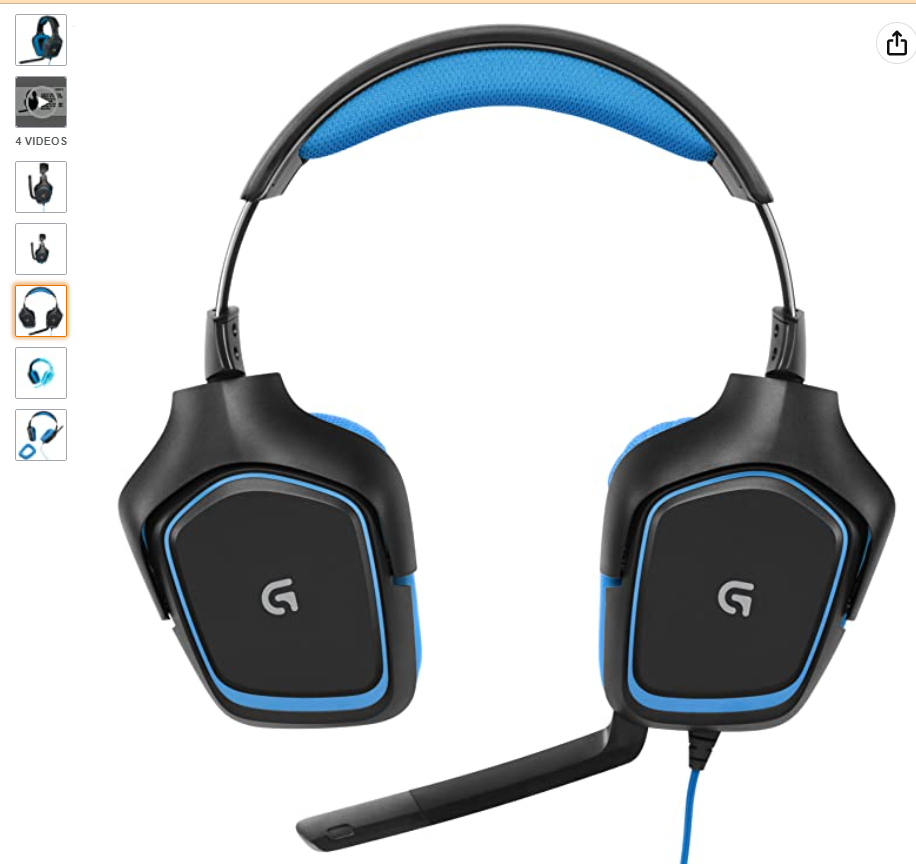 The inner side of the headphone is made of metal, which is a great thing. So you don't have to worry about its build. Moreover, the headphone supports up to 90-degree rotation. This makes sure that this can adjust to any ear size or wearing position.
Comfortability
You can use these headphones comfortably for long gaming sessions without worrying about any discomfort, as the earcups are soft and comfortable. It uses memory form technology to provide you comfort.
The cushion used in the Logitech G430 is breathable, which is a plus point for hardcore gamers. In addition, these headphones are detachable. This way, you can wash it whenever necessary.
Overall the build and design are excellent. Generally, companies miss out on providing comfort. Fortunately, that's not the case here.
Mic Quality
The first thing that I don't like about the g430 is the mic quality. However, it is still decent but could be better. It will do the job, like communicating with friends while gaming or making regular calls. But there are better buys for those who want a crystal clear mic.
The other issue is design-related, or it's a design error. Generally, gaming headphones have a feature that when you turn the mic upside, it stops working. Surprisingly, the situation is different here. While turning up the mic, it doesn't stop.
Software
Do you know what the best thing about Logitech gaming devices is? It's the software. If you have used other Logitech products, you may already know the level of customization it provides. For instance, you can tweak settings to make it suit you better. Unfortunately, that's not the case here. The g430 gaming headset offers little customization.
Likewise, you don't have the option to create different settings for different games. Don't get me wrong. You still get some helpful customization features. Overall, it would have been better if they had gone with the regular Logitech gaming software, which is full of customization features.
| | |
| --- | --- |
| Pros  | Cons |
| Decent Sound | Average Mic Quality |
| Comfortable Design | |
| Budget-Friendly | |
| Surround Sound 7.1 | |
| Breaded Cable | |
Final Thoughts on the G430 Gaming Headset
Overall, the g430 gaming headset is a value-for-money device. Even though it doesn't have that crystal clear sound quality, it has balanced sound, which is more than enough for most users. Moreover, we can't complain about the sound, as the sound quality justifies the price.
Overall, I like the Logitech g430 gaming headset, as it performs well in gaming. Besides the sound, it has the most features we need on gaming headphones. Whether you talk about comfort or design and build, It provides solid value.
Likewise, If you are looking for gaming headphones at a budget-friendly price, you can surely try them.