Dan TDM, formerly known as the diamond Minecraft is one of the top gamers on Youtube. He is a British Youtuber who is popular for his commentaries on Youtube. As of 2023, DanTDM has 26.8M subscribers on his official Youtube channel and has posted more than 3.6K videos. For this reason, he is on the list of elite YouTubers such as Mrbeast, Mrwhosetheboss and Marques Brownlee.
DanTDM plays games like Minecraft, Roblox, Pokémon and Sonic the Hedgehog on his YouTube channel. His commentary and gaming skills are exceptional. Moreover, his subscribers enjoy his commentary and his fan base is rapidly growing. His YouTube channel was also listed among the top YouTube channel in the United Kingdom.
Although DanTDM is a popular name worldwide, not many people know about his personal life. So, if you are a fan of DanTDM and want to know more about him, this article is for you. We are going to discuss all the aspects of your favorite YouTuber's life. So, let's get started.
Early Life and Background
The real name of DanTDM is Daniel Robert Middleton, and he was born on 8 November 1991 in England. He had a tough childhood as he saw his parent's divorce when he was a child. As a kid, he was more interested in extracurriculars than academics. Daniel joined University of Northampton to pursue studies in Music production.
He was always interested in making a career out of his passion. Thus, he created a YouTube channel On July 14, 2012. However, he never expected that he would be able to make such a huge empire from this venture.
DanTDM's Married Life
DanTDM is married to Jemma Middleton, and they both dated for years before getting married in 2013. Her wife Jemma has appeared in many videos on his channel. The couple loves animals and has three pet dogs named Ellie, Darcie, and Peggy. They also foster many puppies and dogs until they get a permanent home.
Moreover, Dan became a father in 2020 and was blessed with a child named Asher. Then in 2022, he was blessed with a baby girl named Miles. He often posts pictures with his kids. Dan seems to enjoy and cherish the moments with his family and kids. Another fact about Dan is that he never reveals the face of his kids in any of the pictures.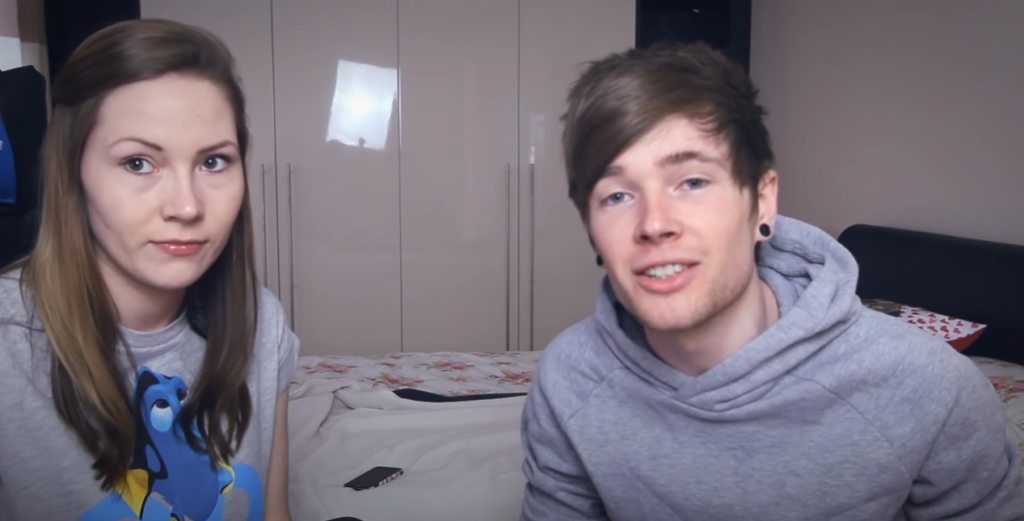 He wants to keep their life private and away from the limelight. He never really shares much about his personal life, but when his channel crossed one million subscribers in 2013. he uploaded a video titled " Draw my life" in this video, he shared lots of details about his private life.
Moreover, when he was expecting his first child, he also posted on his channel. In this video, he shared his excitement with his subscribers. However, due to some personal reasons, he decided not to reveal the face of his kids.
Professional Life
DanTDM is one of the most subscribed and popular Youtuber in the United Kingdom. As of now he has 26.8 million subscribers and 3.6K videos on his official Youtube channel. He created his Youtube channel on July 14, 2012 initially most of his audiences were teenagers and he used to post gaming content.
Initially he didnt got much recognation but once people started discovering his content. Dan got the fame and success that he deserved. In the year 2017 he was listed among the richest Youtubers in the United Kingdom. Dan plays games such as Minecraft, Roblox, Pokémon and Sonic the Hedgehog.
Moreover, he also holds the guinness world record for best selling video games. He has created his love and passion for gaming into an amazing career. Additionally he ha salso launched a graphic novel "Trayaurus and the Enchanted Crystal" in the year 2016.
However, he has also been involved in many controversies. Some of Dan's most popular videos are:
Minecraft | VACATION DISASTER!! | Custom Vacation Adventure #1 with 58 million views and more than 33,040 Comments.
HOW I MET DR TRAYAURUS | Minecraft with 56 million views and 62,257 Comments.
Minecraft | 5 SECRETS ABOUT DANTDM!! With 53 million views and 39,400 Comments.
Why the Name DanTDM?
His channel was named "TheDiamondMinecart" initailly after he gained popularity people started creating fake accounts with similar name so to distinguish himself he changed his name to DanTDM. This name is much easier and people can easily identify his original account. He also though that earlier his name was too long and people would remember that name.
DanTDM's Achievements
Dan is one of the Richest and most popular youtuber. Moreover, he has accomplished many great achievements in his professional career such as:
Dan has won Kids Choice awards for his gaming and he also holds Guinness world record for the best selling video games.
Dan has both Golden Play Button and a Diamond Play Button from YouTube which is considered a huge milestone in any Youtuber's career.
He has also launched a graphic novel titles "'Trayaurus and the Enchanted Crystal".
His novel also featured in the New York Times' book of the month. It was also the best seller.
Some Interesting Facts About DanTDM
DanTDM is obsessed with tattoos and has 8 tattoos on his body.
He also celebrated his 20 million subscribers by getting a tattoo.
Dan loves experimenting with funky hair colors and he has dyed his hair navy blue and blonde in the past.
He hasnt revelved the face of his kids as he wants to keep their life private.
Dan has won many gaming championships.
The Bottom Line
DanTDM is a popular name in the gaming industry and he is one of the richest Youtubers in the United Kingdom. He is an icon for youth and yet he does everything he wants. Dan doesn't shy away from being himself and he knows how to maintain a balance between personal and professional life. Moreover, his fan base is growing rapidly and there is so much that he is yet to achieve.