Choosing the right modern font for logos and branding is of utmost importance. In today's world, where every industry is full of competition, it gets even more critical.
How it affects your brand value and what type of fonts will suit you will get to know everything here.
What are Modern Fonts?
Modern typography/fonts are the universal way of communication. Unlike older fonts, these fonts are bold, sharp, and sleek. These fonts are designed to convey the message to the user in the least time.
If you still need help understanding the difference between modern and old fonts. Don't worry, I will explain it to you.
Like any other products, fonts, too, need to be upgraded with time. These upgraded versions of fonts are called modern fonts. The goal of using fonts stays the same, but the design layout does. For example, modern fonts are bold, crisp, and sharp compared to older fonts.
Humans have been using writing as a means of communication for centuries. Whether you talk about small business posters or commercial templates, fonts are essential in conveying the message to consumers.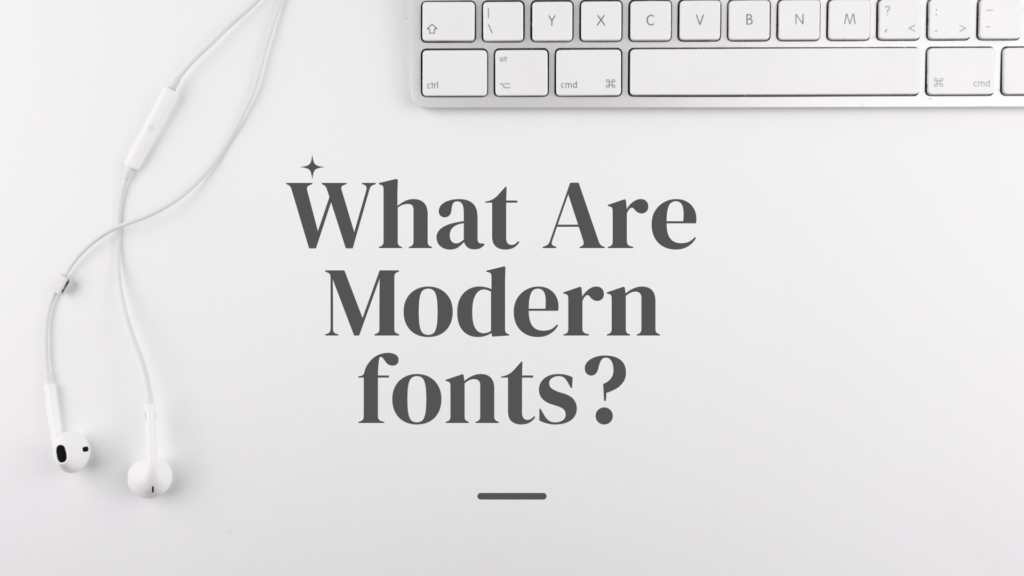 Earlier, the consumer base for any business was mostly local. But the situation is different now. Now the whole world is the consumer base for any given business. So it gets even more essential to convey the message to the consumers.
That's where modern fonts come in. These fonts are designed for modern consumers who have more choices than ever.
Are you searching for modern fonts for your brand/logo? Then you are at the right place, as I will give you a complete list of the ten best modern fonts. So without wasting any time, let's sneak inside the list and provide you with the essential info.
Helvetica Neue.
1. The first font on the list is Helvetica Neue. There are plenty of reasons behind this. Earlier, the font was only Helvetica. But now it is known as Helvetica Neue. Many graphics designers consider this font as a perfect font.
The reasons behind this are many. I will mention some here. In general, fonts are design oriented. It means some fonts look good on a particular design but bad on others.
This is not the case here, as you can use this font in any design.
However, the font is paid for but is worth spending the money on. If you want to use this, you can download it.
2. Lequire
Another fabulous and modern font on the list is Lequire. Based on a san serif preface, it makes the design premium and stand out. The design is perfect for sports and other luxury brands. The font can add a demanding unique factor to the design, making it great for logos and banner-related designs.
3. Kamerun
Kamerun is built to fulfill the design needs of brands. It has luxury and attention-grabbing elements in it. It's a serif font designed to add value to your brands. Don't expect multiple font weights and style choices. The font has a few style choices, but they are great.
4. Charis
Charis is another user-friendly modern font that you can download and use. It was launched recently in October 2022. Although the font is new in the industry, many people have already started using it. So it will take some time for people to know about it.
The font best suits makeup brands. This is because it has that feminine and eye-catchy look, which is essential for skin care and other beauty brands.
5. Ikaros
The following modern font in the list is Ikaros, a san serif. Talking about some of the font's characteristics, it covers both uppercase and lowercase.
It has that bold look that suits logos and branding. So you can use this font in your brand's heading or subheading.
6. Inter
Inter is a modern and easy-to-use font. It offers 32 different font combinations that can serve your multiple design-related purposes. One important thing to note here is. it is especially designed for a computer screen.
The font can look good on any brand.
7. Morganite
Morganite is another modern, user-friendly font. The font is stunning and long character-based. It looks great when used in upper case. They look great when used in the upper case and vice versa. In general, it happens with all long character-based fonts.
Surprisingly that's not the case here. Morganite looks excellent in both upper and lower cases.
8. Integral
The integral font is designed for visual and emotional impact with its stunning, superbold looks. The font can give your design the much-needed stylish touch.
Integral can be used for brands that symbolize youth. For instance, it's a perfect choice for fashion brands, music fest, or any other sports or music-related stuff.
9. Starky
While other fonts are mostly related to luxury brands and youth, Starkey differs. Unlike other fonts, it has funky looks, making it unique.
The letters are a unique blend of curly and round characters. The font suits child products well. For instance, looks great on the kid's book cover, candies cover, and something colorful like crayons.
10. Eurostyle
Last but not least on the list is Eurostyle. It has that stunning and boxy look. The characters look like a blend of square and round elements.
The smooth edges look great on any design. The font is the perfect choice for anyone looking for a font that can give a boxy and geometrical look.
Final Thoughts
Before you form any opinion, I want to clarify that hundreds of good fonts are available. With this guide, I tried my best to give the font options for logos and brands. These were the top 10 modern fonts that are great to use.
Like great designers say, there are tons of fonts available for you, but you only need a few. While making your design, you don't have to experiment with hundreds of fonts.
Research what type of font suits your niche best, and then choose.
I hope this article helps you.