Finding a good gaming laptop is a challenging task. It gets even more complicated when you don't know exactly what you need. On the other hand, if many options are available, you will again find yourself in a confusing situation.
A gaming laptop, the Clevo pa71, is getting a lot of attention from gaming lovers. If you are reading this article, you are also among these people.
Is this the best budget gaming laptop? How's the heat management? Should a regular user go for this machine? And lastly, the most important one, is the Clevo pa 71 worth having your attention in 2023?
You will get all your answers in detail, so be with me till the end.
| | | |
| --- | --- | --- |
| Basis | Features | Specifications  |
| Display | Resolution | 1080P Full HD |
| Display | Refresh Rate | 144hz |
| Display | Multiple Display Support | Yes |
| Processor | Intel | Core i7 8th Gen |
| Storage | Storage Type | SSD |
| Storage | Built-in-Storage | 512GB |
| Keyboard | RGB | Per Key RGB |
| Graphics Memory | NVIDIA GeForce | GTX 1070 |
| RAM | Available RAM | 32GB |
| RAM | RAM Frequency | 2400MHz |
| Ports | Thunderbolt Support | Version 3 |
Design and Build
The design we get here is typical gaming. For instance, it has a dark grey color body. If you have seen Asus Tuf series laptops, you will find them very similar. The design feels premium in hand because of the aluminum alloy chassis. Moreover, the design is on the slimmer side as compared to standard gaming laptops. The bottom part of the laptop has an angular design that allows it to adjust on uneven surfaces.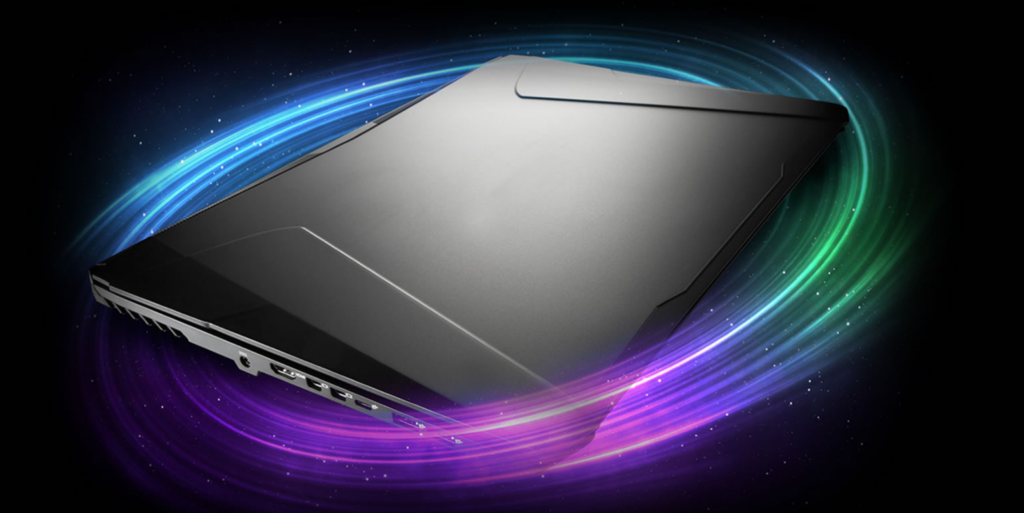 Display
The best thing I found about the Clevo pa71 is its humongous 17 inches display. It is exciting because usually, we don't see 17 inches laptops. The reason behind this is when a brand gives this big display, they can't compromise on the quality, such as sRGB ratio and pixel density(PPI).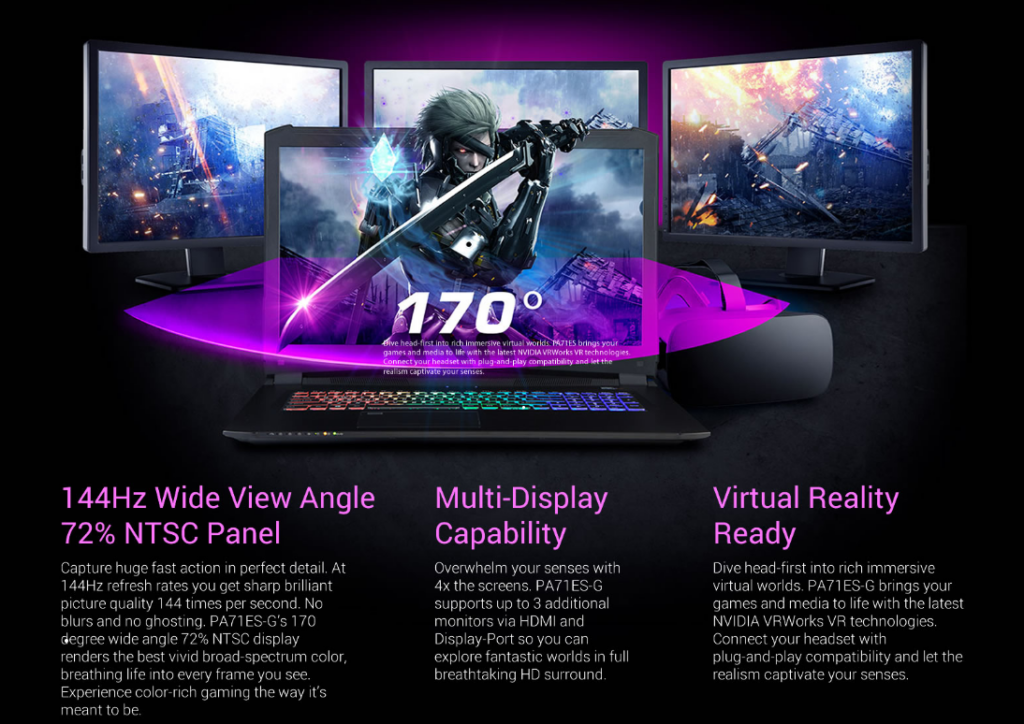 The thing that happens here is that the Clevo gaming machine not just provides an extensive display but also manages to provide excellent color accuracy. Let me explain this to you, Clevo offers 100% sRGB(74% NTSC) with this device. As a result, colors look vibrant.
This is only part of it; the display still has a lot to offer, such as a 144hz high refresh rate. The high refresh rate ensures you don't lose a frame while playing your favorite game. As a result, gaming on the laptop is a treat.
Clevo pa71 Supports Multiple Displays.
Another unique feature the clove laptop offers is multiple display support. Moreover, this is not a general feature we often see on laptops. With the help of this feature, you can create three additional displays with your laptop to create the perfect gaming environment. However, we can't tell how useful it is for an average user, but it's better to have it than not.
Power and Performance
The most important aspect of a laptop is its performance; it gets even more critical when it comes to a gaming laptop. With that said, let's check how the Clevo pa71 performs in real life. The intel core i7 8th generation processor powers the Clevo pa71. The core i7 enables you to complete all day-to-day tasks without any issues. The performance with regular applications is decent.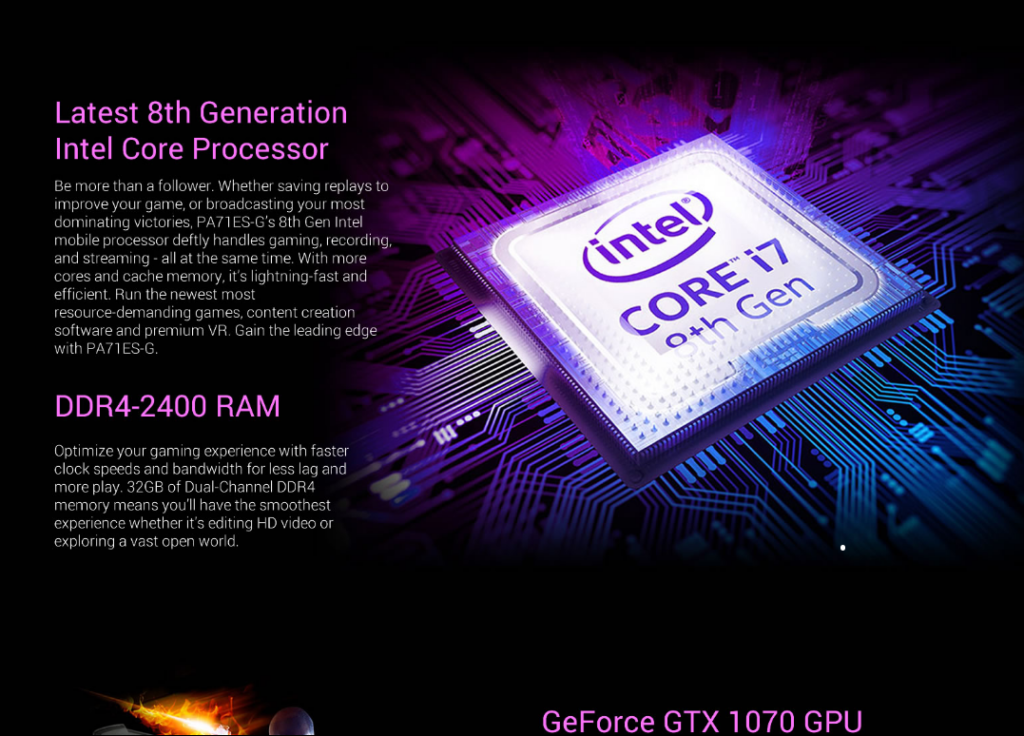 Don't get me wrong; there is nothing to complain about in the case of casual use. But considering that it's a full-fledged gaming laptop, the performance is definitely on the lower side. The primary reason behind this is it has an older processor. You will notice some performance issues if you throw heavy tasks on it.
The i7 8th generation processor was excellent when the Clevo pa71 first launched. Since then, processors have evolved so much that it's lacking behind. Overall the performance for everyday tasks is good enough. In comparison, it needs to catch up while performing extensive tasks.
Clevo pa71 Gaming Performance
Here comes the exciting part, gaming performance. It comes with NVIDIA GeForce GTX 1070. I tried multiple heavy and casual games in it. What I observed is it runs casual games smoothly. Thanks to the GSYNC technology it uses, it prevents you from screen tearing issues. On the other hand, it is decent if we look at the performance with GPU-intensive games.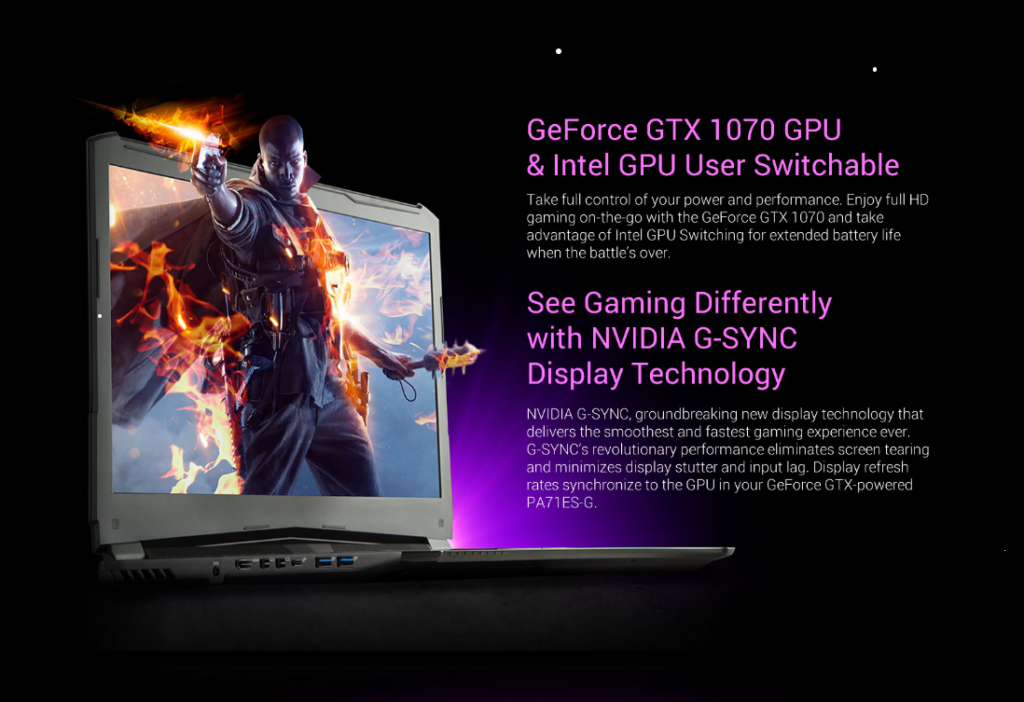 Overall the gaming performance is good enough for casual users. The NVIDIA Geforce GTX 1070 handles most games at 70 to 80 FPS, which is decent. At the same time, the performance drops while playing top-tier games. You should look for other options if you play top-tier games on high settings.
Ram And Storage
The Clevo pa71 is coupled with a massive 32GB Dual channel RAM and 512 SSD(Solid State Drive). The massive RAM and storage combo makes multitasking fun. For instance, you can open as many applications as you want without worrying. Moreover, the 512 GB SSD ensures that every application or software you open loads fast in the RAM. However, the only thing that could be better is the RAM frequency which 2400Mhz. Anyways, that's not a big deal.
Battery
Battery life is where most gaming laptops disappoint because the processors used in gaming laptops run on a higher frequency than regular laptops. Not just this, heat management plays a crucial role here.
Talking about the Clevo p71's battery life, it's pretty similar to regular gaming laptops. You get around 4 hours of battery backup while doing heavy tasks such as gaming and video editing. However, you can expect 15 to 20 percent extra battery life on casual use.
Overall, the battery life is just average. Still, we can't complain much as gaming laptops aren't meant to be power efficient.
Per Key RGB Keyboard and Touchpad
The Clevo pa71 comes with an RGB Keyboard. You will be able to have a perfect gaming experience with vibrant colors on the keyboard. The exciting part is that it's a per-key RGB keyboard, which allows you to customize lighting for each key. As a result, it takes your gaming experience to the next level.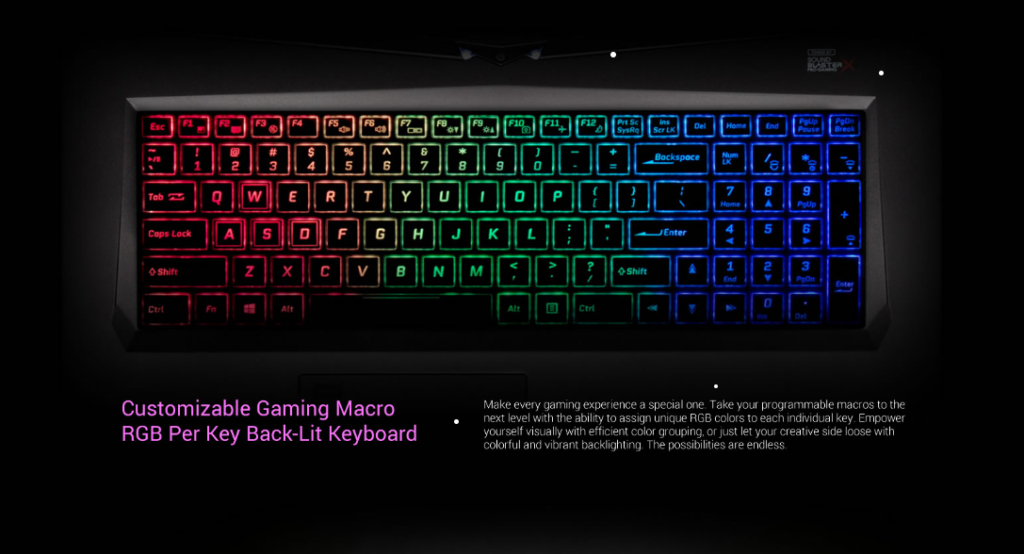 On the other hand, you get a standard trackpad. The trackpad area is big so that you can navigate easily. Still, I suggest using the mouse while playing games.
Overall the keyboard is excellent, with decent key travel and per-key RGB lights. In contrast, the trackpad is a regular one that gets the job done.
Audio and Webcam Performance
Talking about the Clevo pa71 audio quality, it's great. Thanks to its Pro Blaster engine, it produces a loud sound. The Sound Blaster engine offers immersive sound and loud bass so that you can enjoy each moment of victory. You can try it by using Logitech G430 gaming headsets to get an excellent experience.
In addition, the audio output via external output is also excellent. Thanks to its built-in sound amplifier, you can notice every detail in your audio.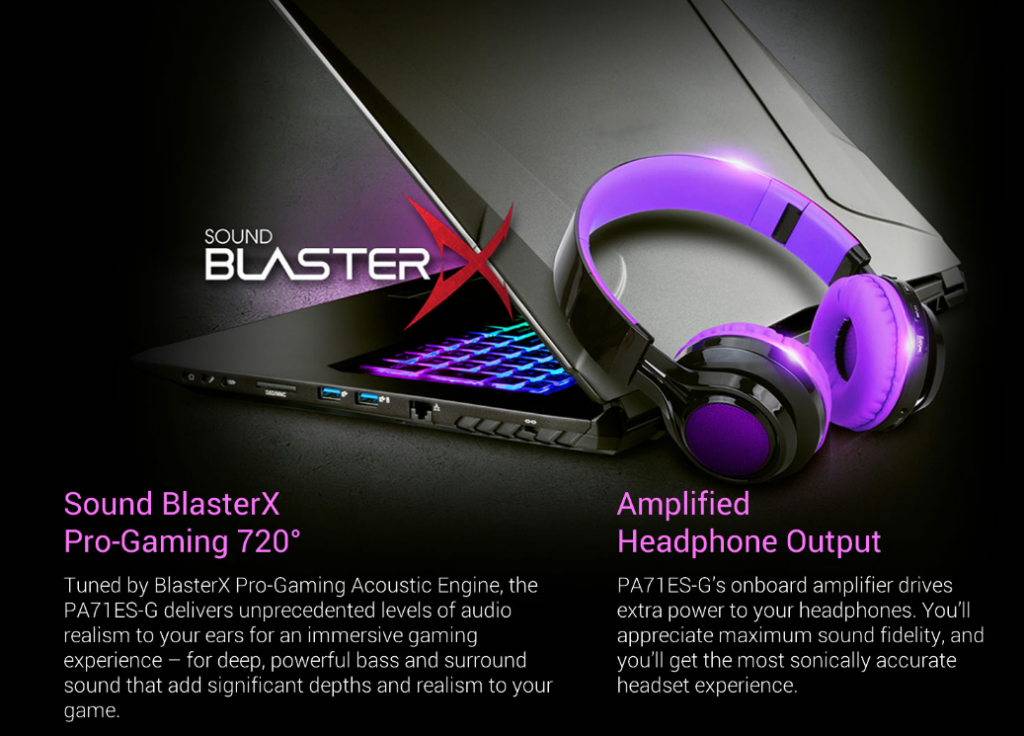 On the other hand, if we talk about the webcam quality, it's average. There is nothing impressive to speak about. It will get the job done if you video call once in a while. Whereas if you attend a lot of google meet or zoom meetings, you will need an external webcam.
| | | |
| --- | --- | --- |
| S.N | Pros | Cons |
| 1 | 100% sRGB Display | Older Processor |
| 2 | High Refresh Rate | Older GPU |
| 3 | Excellent Audio | Average Webcam |
| 4 | Solid Build Quality | Average Battery Life |
| 5 | High In-built RAM | |
| 6 | Thunderbolt Support | |
| 7 | Multiple Displays Feature | |
| 8 | PCle SSD | |
| 9 | Dual Channel Ram RAM | |
Final Thoughts on the Clevo pa71
Overall the Clevo pa71 is a decent package. For instance, it has an excellent keyboard, a high refresh rate display, and solid build quality. Let us remember the fantastic audio performance it provides.
Despite this, there are some areas where this laptop needs to be improved. For instance, performance while performing intensive tasks. The story is very similar whether you talk about high-end gaming or other extensive tasks. You will feel the lack of performance.
Now back to the question should you consider buying this machine? It depends. For instance, it's a decent buy if you want a gaming laptop with decent performance and incredible audio and display quality. It gets even better if you can get in during the sale. At the same time, it's not a suitable option for hardcore users.