Have you ever played google memory game?
Having a good memory is very important. It doesn't matter if you are older or young; good memory is helpful for both. Unfortunately, humans have a minimal attention span and remembering habits these days.
What if I tell you some games can help you improve your memory? Would you believe it? Well, you have to. A couple of games can improve your memory while having fun. That too from google. What are these memory games, how can you play them, and where to find them? You will get to know everything. So be with me till the end.
What is Google Memory Game?
Google Memory Games, also known as santatracker, is an interactive matching game that requires you to flip two cards simultaneously to find a match. The game's objective is to find all pairs as fast as possible. It's fantastic to see that Google has a memory game! It's an excellent way for you to practice your memory and also to pass the time. This guide will cover all aspects of the Google memory game and everything related to it.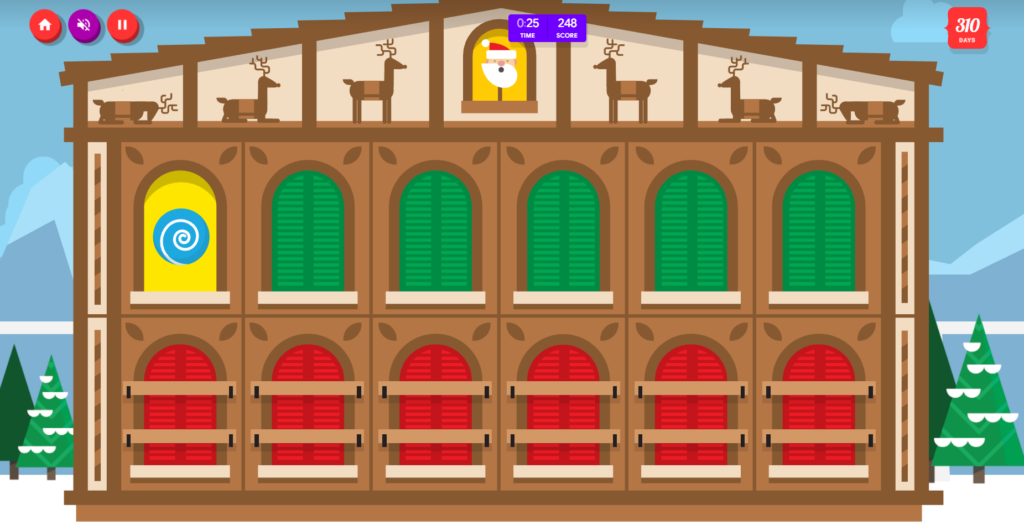 Google memory games is an exciting game that not just checks your memory but also helps you improve it. It's a card flip game where you need to remember the location of each object. The game starts with an easy task where you need to match the pairs when four cards are there.
It would help if you found each pair as fast as possible. As you go ahead in the games, it gets more and more challenging. Now you know the google memory game, let's see how you can play it.
Also read, Clevo pa71 Review – More Than Just a Gaming Laptop
How to Play the Google Memory Game?
The process of playing google memory is highly straightforward. The game starts with four doors on the screen. Each door contains an object. You need to click on the door to flip it so that you can see what it contains. As you already know, you need to create pair of two. This means you will have two pairs in level one. When you remember the position of all the images, click on images to make all pairs. That's how easy the playing procedure of google memory games is.
Steps To Play the Games
Click on the door- It will flip the door.
Remember the object's position.
Click on all doors.
Remember all positions.
Knowing all the positions, you can make pairs and complete the level.
Perks of Playing Google Memory Games
1. Test Your Memory
Do you know how your brain is at remembering things? I am pretty sure most people don't know about their memory ability. The reason behind this is, in general, we don't test our remembering skills. That's why google memory is a highly beneficial game to test your memory.
2. Utilize Free Time
We often have spare time and don't know what to do. In such situations, we do mindless scrolling on social media. What about having fun in this spare time that can improve your memory? If this feels interesting, you can play this game whenever you are free.
3. Improve Reaction Time
Reaction time is our ability to react in response to an activity. The faster the reaction time, the better it is for us. As you have to complete the level on his google memory game in a limited time, it helps you improve your reaction time.
4. Improve Attention Span
Attention span is our ability to focus on a particular task. These days due to short videos and access content, human attention span is at an all-time low. It reduces our productivity significantly. As you play the google memory game often, your attention span improves.
5. Release Stress
We live in a fast fast-paced world. For this reason, we have to deal with a lot of stress and anxiety. As an escape, we use social platforms such as Facebook and Instagram. But the reality is these platforms do more bad than good. So it makes sense to play this game and improve your memory.
Beneficial For Kids Brain Development
As we all know, children love playing games. The problem is that most games are addictive, yet they don't provide any value. Let alone benefit. They affect their brains just like addiction. On the other, the Santatracker (google memory game) helps children improve the fundamental aspects of the brain, such as cognitive skills, memory, reaction time, differentiating between shapes, etc.
Tips to Improve Santatracker Score
Try to remember the image position.
To make it simple, remember them by the side, for instance, left or right. (i.e., if you see a ball in the left area, remember the left area of the screen). This way, even if you don't know the exact position, you will know which side to look for.
Don't stick to one door; even if you don't know the answer move on to the next to save time.
Don't look at the timer; it will add extra pressure.
And the most important thing, keep practicing.
Final Thoughts on Google Memory Game
Overall, the santatracker, aka memory game, is an easy and fun way to improve good skills. With its interactive visual, you will be able to improve yourself. The best part about the games is it can be played in the browser. For this reason, you don't have to download any application.