Dell Inspiron 15 3000(3511) is another workstation on the dell lineup. It's a compact and sleek productivity oriented laptop. Generally laptops in this price bracket are focused and value for money models. This device is no different.
If you have some knowledge about Dell laptops then you may know that Inspiron is the most selling series from dell. Dell categorizes it in three parts 3000, 5000 then the premium 7000 series.
It's a package that tries to balance the needs of most people that are seeking for a good productivity. However being a budget laptop Dell had to compromise on some areas. In this article, we will review this machine inside out and understand if it is any good?
Overview
Talking about the overview of this device, it looks very similar to its predecessor. With minor changes here and there, Dell has managed to come with a very similar design. Some may consider this as a bad thing, but it's not a bad thing.
This is because older design doesn't mean inferior unless it has issues. The design looks good and doesn't feel cheap, thanks to its well-built chassis. The front side looks a lot similar to the other Dell laptops in the price range.
It has average size bezels that could be smaller. In terms of software, it comes with Windows 11 out of the box. There are many things to talk about. We will discuss them later.
Dell Inspiron 15 3000 Display
Talking about the display of this machine, it's a Full HD panel with 1920 x 1080 pixels. Coming to the performance part, it's a good quality IPS LCD panel. You will not have any issues regarding the quality of the panel on general usage.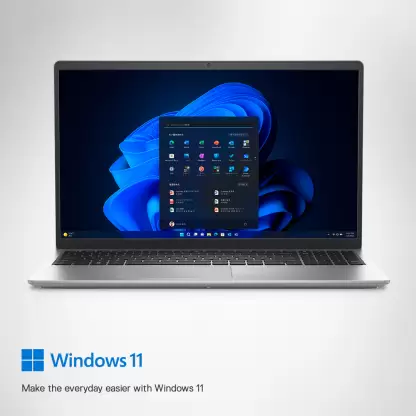 As it's an Ultrabook you will get the standard 60hz refresh rate. The color accuracy and brightness is just like any other in the segment. However, the display brightness feels a bit dim when working in low light.
Other aspects of the display are fine for the price. For instance, you will not have any issue with viewing angles. Moreover the display has an anti glare layer over it. It reduces the amount of reflection that reaches your eyes. While testing we found out that it actually works great. However, some light still reaches the eyes but that is negligible.
Power and Storage
Coming to the most essential part which is of course performance, it packs with intel core i5-1135G7 quad core processor. It's a 11th gen process that is known to provide good performance.
Bundled with 16GB of LPDDR4 RAM it offers smooth performance. Due to high RAM, working with multiple applications aka multitasking has no issue. You can do all your office tasks like surfing on the web, creating doc files and making presentations without issues. In terms of GPU the inspiron 15 3000 comes with an integrated iris Xe graphics which provides good performance as compared to older integrated graphics.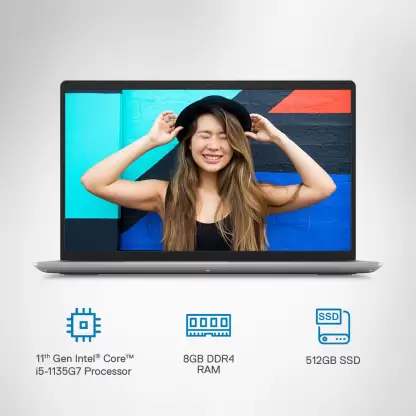 Hence, you can not just do your daily tasks but can also do casual gaming sessions without worrying.
The storage you get here is 512 TB of SSD. It makes a great combination with 8GB of RAM. The SSD used here is NVME that is known to provide super-fast speed. Moreover, you can upgrade the SSD in case you need more.
Keyboard and Touchpad
The backlit keyboard here is just like any other laptops in the price range. Not anything extraordinary as you see on high-end gaming laptops. In general usage it seems to work just fine.
In terms of build there isn't anything to be concerned about. But the problem occurs when you type for long sessions. For instance the key size is not optimum for long typing sessions. In addition, the key-travel is also not that great.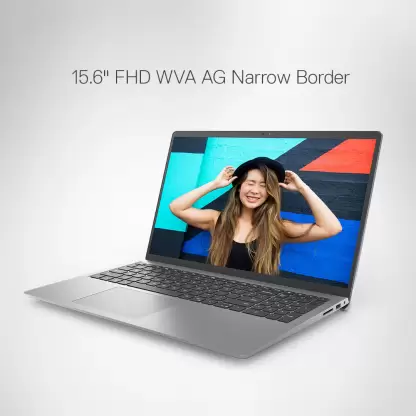 Coming to the touchpad, it has a decent size touchpad as we generally see on windows laptops. The touch response is decent, and works fine for doing general use. However, if you do the work where you have to use select and drag and drop, you will feel some issues. Overall the touchpad seems to perform decently. However, I would recommend a good quality mouse for better performance.
Audio
With audio Dell has done a decent job here. The speakers produce responsibly loud sound. If we check the clarity then it also performs well. The point to be noticed here is that, don't expect crystal clear sound like you get on high end laptops.
Here we are talking about the general performance for instance playing Netflix, watching YouTube content and listening to music. As the speakers are bottom firing, the sound gets suppressed which otherwise would have been louder.
Connectivity and Ports
The Dell Inspiron 15 3000 is decent for connectivity. It packs 3 USB Type A ports. Two of them are gen one based and support high data-transfer speed. In contrast, the one on the right side is a standard USB type-A port that supports data transfer up to max 480MB.
It also includes ethernet port, kingstone lock, card reader, 3.5mm headphone jack and HDMI port. The HDMI port here supports max up to 1080P resolution with 60hz of standard refresh rate. The only issue here is that it doesn't have a Type-C port.
Battery Life
As this is a productivity based laptop, the battery here is quite good. It packs with a 42 w/hr lithium-ion battery. In typical office day usage it lasts around a bit short to 8 hours. So you have to use your charger for at least half an hour to get that extra battery to cover the whole day.
The battery life will mostly depend on the usage. If you just do casual usage then you can expect a typical working day. On the other hand, high intensity usage such as playing games and doing editing and stuff brings down the battery life drastically.
If we talk about battery life on gaming it varies in between 2 to 3 hours. The charging time in this machine is a bit more than 2 hours. So I would recommend plugging in while gaming.
Final Thoughts on Dell Inspiron 3000
Now that we have understood everything, we can make a conclusion about this machine. After using the device for some time, we came to the conclusion that it's a balanced device. For instance, the performance here is good for the price. One thing to note here is that, you should not compare its features with premium laptops such as clevo pa 71 which is a high-end gaming laptop.
While testing we didn't find any major issue. However there is nothing like never seen either. The lack of USB type-c might be a deal breaker for some people.
Overall, we would say that if this device is good for you or not completely depends on your need. We have explained everything in detail. So you need to check your requirements and then decide what is best for you.