Are you planning to buy an iPhone but need to figure out how you will share your WhatsApp data?
Have you already purchased an iPhone but missing your WhatsApp memories?
Do you want to Transfer WhatsApp Chats iPhone but don't know how?
Transferring data from android to iPhone was always frustrating. Due to the different OS, it took a lot of work to share data from android to iPhone. Many users were preventing shifting to iPhones because of this issue.
After buying a new smartphone, transferring necessary data from the old phone is essential. However, the feature to transfer data from android to iPhone was available on iPhone for a long time. For some reason, the part about sharing WhatsApp chats was missing.
Due to this issue, many people who needed to shift to iPhones were preventing themselves from doing so. The lack of a WhatsApp data transfer feature stopped users from moving to an iPhone.
Fortunately, this is not the case anymore. Apple has added a new feature to transfer WhatsApp data from android to iPhone.
 Transfer WhatsApp Chats From Android to iOS?
It is clear from apple advertisements that apple is trying hard to make your shift to an iPhone. For instance, apple added many features to the iPhone to make the data transfer more accessible, whether we discuss reducing pricing for existing iPhones or launching budget-friendly iPhones.
Apple did so much to attract android users. However, the most important feature was missing. People waited for this feature too long. Recently apple came up with this most awaited feature.
Points to remember
Your phone should be on the latest update.
This feature does not include calls.
The feature doesn't cover payment-related data.
Make sure that both phones are using the same Wi-Fi.
Your phone should have enough battery level.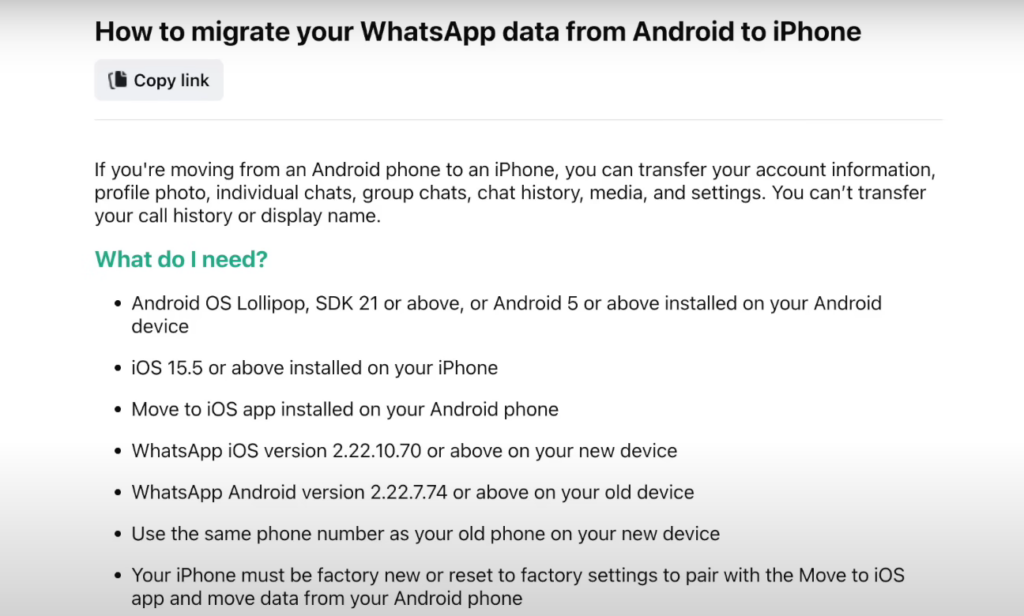 Source: Technical Guruji
This method will only work if you are setting up your new iPhone. But what if you are already using your iPhone? In this scenario, you must reset your iPhone and follow the process again.
Transfer WhatsApp Data From Android to iOS by Using Official Method
Now you know all the crucial points. You can start sharing your data from your old phone to a brand-new iPhone.
Step 1. Download and install the move to iPhone application from the play store.
Step 2. When setting up your new iPhone, select the move data from your old phone to iPhone option.
Step 3. Fill in the code in your old phone shown on your iPhone screen.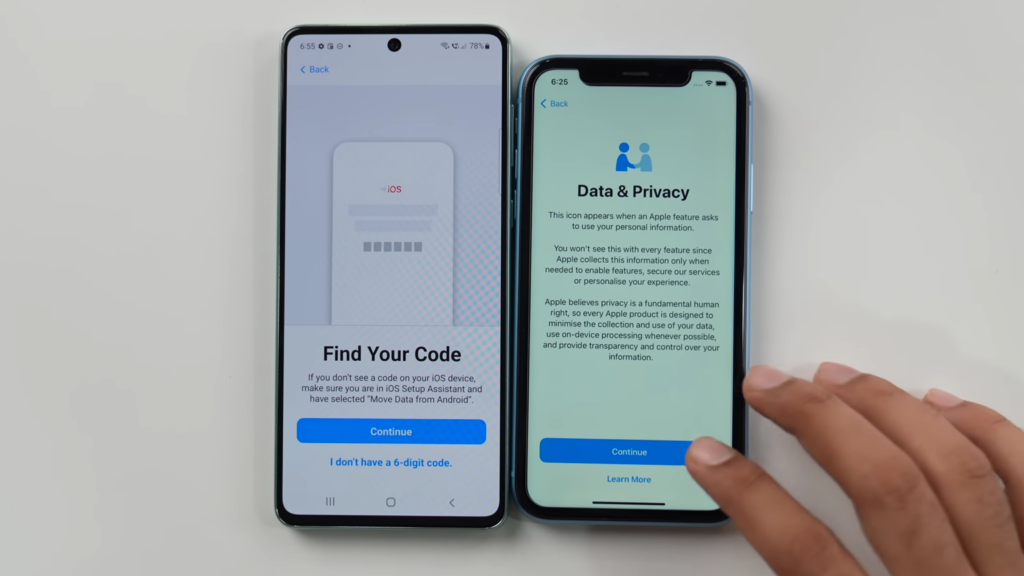 Source: Nabeel Nawab
Now you can see options to select the data you want to send. Make sure to choose WhatsApp here. If your android phone is running on an old android version, you may not be able to see this.
Step 4. Now click the start button.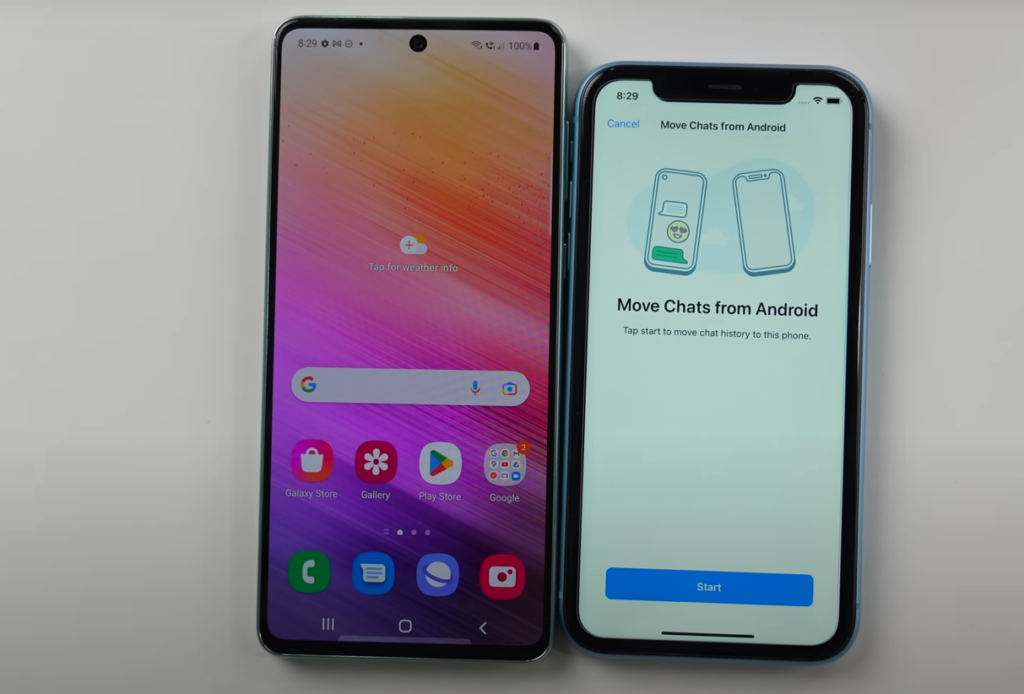 The data-sharing process can take a few minutes, but that's fine.
5. Now you will see the move chats from the android option. Click the start button, and that's it.
Congratulations, all your WhatsApp data has been transferred successfully.
After completing the process, you will have your data on both phones. You can decide what to do with that data.
What if Your Phone is Running on an Old Android Version(Bonus Tip)
The move to iPhone features is excellent as it covers all essential elements now. But the problem comes when you have an old phone which doesn't support this feature. What can you do, then? Should you give up on your dream of buying a brand-new iPhone? I will say no, you don't have to.
However, the method could be longer than the usual method. But you can share your WhatsApp data even from your old phone. Now, let's dive into the process.
You will need a different android phone running the latest software to do this. Now you need to share your data with that phone. As the new phone supports the move WhatsApp chats to iPhone feature, you can send data with the same process.
This way, you can send data even if your android phone doesn't support it.
---
Conclusion
This brings me to the end of the article. There was a time when sharing data from an android to an iPhone was a disaster. Let alone transfer WhatsApp chats, even transferring normal data was a mess.
But now the situation is entirely different. For instance, Apple's move to the iPhone strategy changed the whole picture completely. Now, you can transfer data between android and iPhone quickly.
Anybody can do this with a couple of clicks with some critical points.
You can also see our detailed guide on making your windows look like mac.
Have you ever tried sharing data from android to iPhone? What problems did you face? Lets us know in the comments below.