Are you looking for a way to earn money by doing homework?
Do you remember those school and college days when we had to do our homework daily? Whether we liked it or not, we had to complete it. Students like me used to wish they could have someone who could do homework on our behalf on us.
Unfortunately, this wasn't possible back then, and we had to do it ourselves. But the scenario is different now. There are numerous platforms available now that provide this service to you. Yes, you heard it right.
How fascinating it is, isn't it? There are a lot of students who need someone who could do homework on your behalf. The reason could be a lack of time, too much homework, or simply no will to do it daily.
People may think this is unethical, but believe me, this isn't as long as you do it to assist students. However, the amount of homework depends on where you study, but in most cases, it is a lot, especially when we count that a student spends almost the whole day in school.
There are tons of people who have free time that they can utilize. They can utilize these free hours by simply doing homework and earning money. With that said, let's jump to those sites that pay for doing someone else's homework.
Top Ten Sites to Earn Money by Doing Homework in India
Numerous platforms offer this kind of service. It is challenging for a person to select the right one. Here are the best platforms to make money by doing homework.
 1. Chegg
Chegg is one of the most popular apps that pay you for doing homework. It is an online platform that lets people with good knowledge share their expertise with students, regardless of where you live or how old you are. You can become a member of Chegg.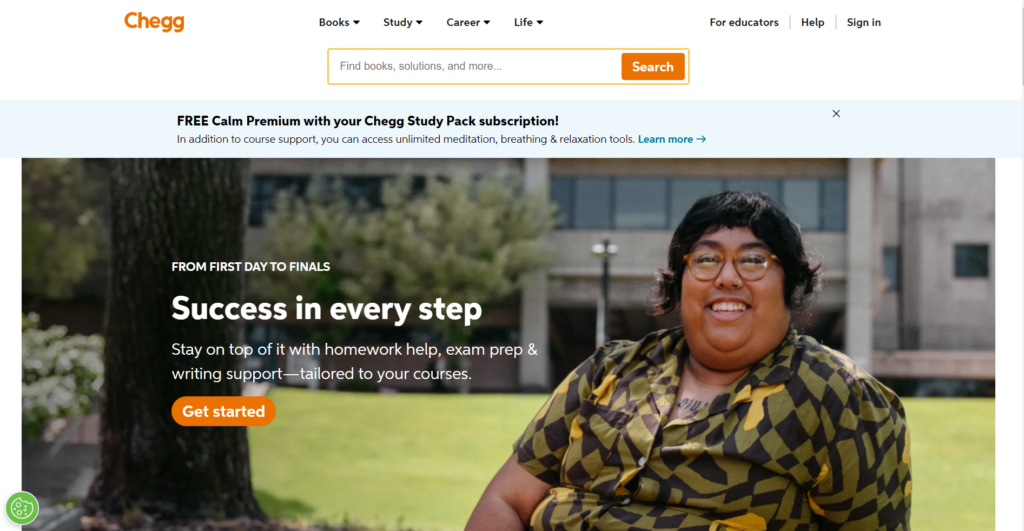 You need to register here by following some simple steps. After that, you will be able to share your knowledge here. Moreover, you will not have any minimum or maximum tasks here. You can decide how much you want to work.
You can get paid if you have good knowledge about a particular subject like math, science, business, or accountancy. In addition, pay is higher for specific subjects.
You can reach out to students from any area.
2. School Solver
School Solver is another online platform where you can earn money by answering simple questions. According to the site information, it has been the number one online tutoring site globally since 2014.
You can see top profiles on the site. All the subjects are available here that you can choose as per your choice. Another exciting thing is that you get paid more for urgent problems. Many people are earning a good amount of money from School Solver.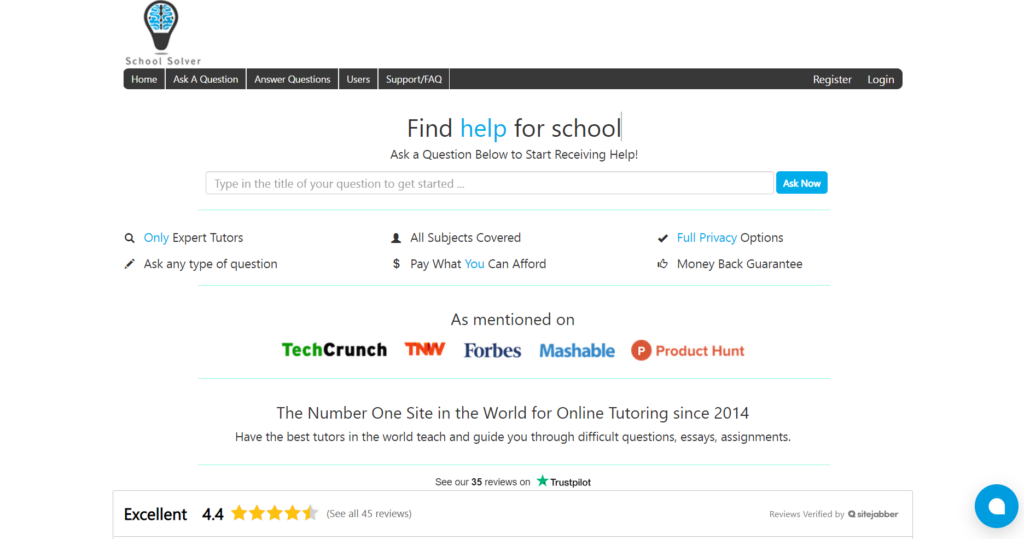 On the other hand, if we talk about the cons of the platform, then the accounts verification process could be more straightforward. Before they verify your account, you need to submit an article or essay in English. If your article gets approved, you can continue the process further.
After completing the process, you must complete a test before starting your journey. If your profile is selected, you can make a good amount of money.
3. One Class
Another way of earning money by doing homework in India is One Class. It's an online tutoring platform where you can share your expertise. Even though it's a tutoring platform, its way of working is very different.
I'll explain it to you; it does not just pay you for your answers but also for sharing your notes with similar course students.
It has a policy credit system. You get 25 credits each time you upload a document. It can go even higher upto 75 if you are an elite member.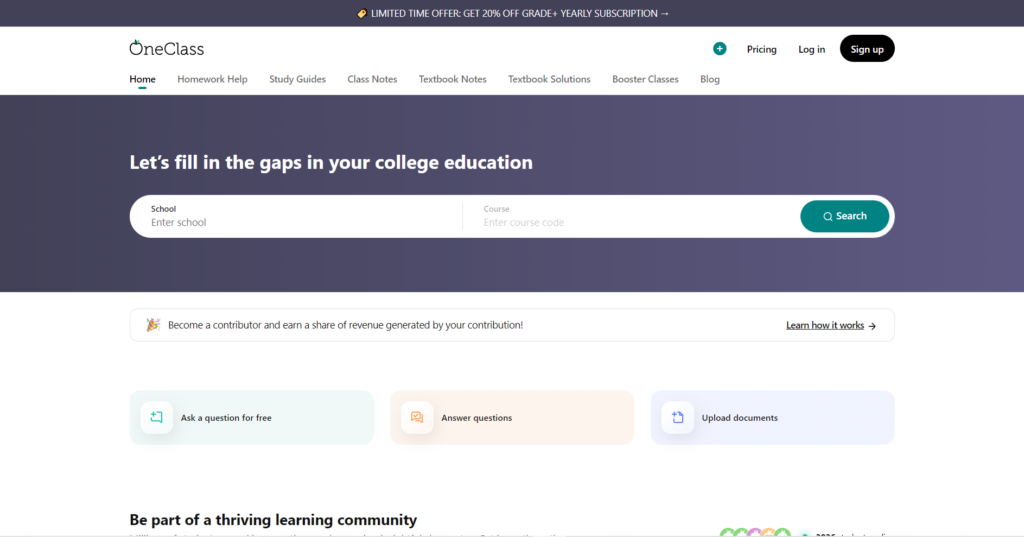 To become a part of it, you don't need to be a part of any university currently. You'll be able to share your services irrespective of your current study status.
If you have the notes you made during your school or college days, you can upload those too.
Way of Making Money in One Class
By answering the questions – The first way of earning money from one Class is by answering questions. If you have a good grab over your field, you can make a good amount of money.
By uploading documents – Another way of making money is by sharing your documents or notes. One Class will share your notes with the ones who need them. On the other hand, you will receive a 25 percent commission for your document.
Registration on the site is straightforward. You can choose from the available plan on the site, and you are good to go.
4. My Fav Tutor
The next one on the list is myfavtutor. It is also online learning where you can share your services and earn money. On the other hand, if you are a student, you can use this platform for your education.
However, this site is India-specific. I wonder if they offer services in other countries. But in India, it is one of the most trusted online tutor platforms.
How does it work?
Myfavtutor works like a mediator between teacher and students. To understand this, I want you to imagine a situation. Suppose there are two people, A, and B. A is a teacher who wants to give his services and make money. On the other hand, B is a student who wants to learn.
How will A find B and offer services? He doesn't advertise him anywhere. This is where myfavtutor-like platforms come in.
Both should have profiles on the platform. After that, it will assign students like Mr. B to A from his locality.
How much Can you earn?
The earnings depend entirely on your efforts. If you do it with dedication and give proper time, you can make a good amount of money.
5. Paper Coach
Paper coach is an online writing service providing platform. If offers services to the school, college, Ph.D., and others who need assistance. It includes reviews, dissertations, cover letters, business admission essays, and resumes.
The site is a United States-based company. The paper coach has been doing writing work since 2016 effectively. So you don't need to hesitate about its security. Another good thing about the platform is the site is user-friendly.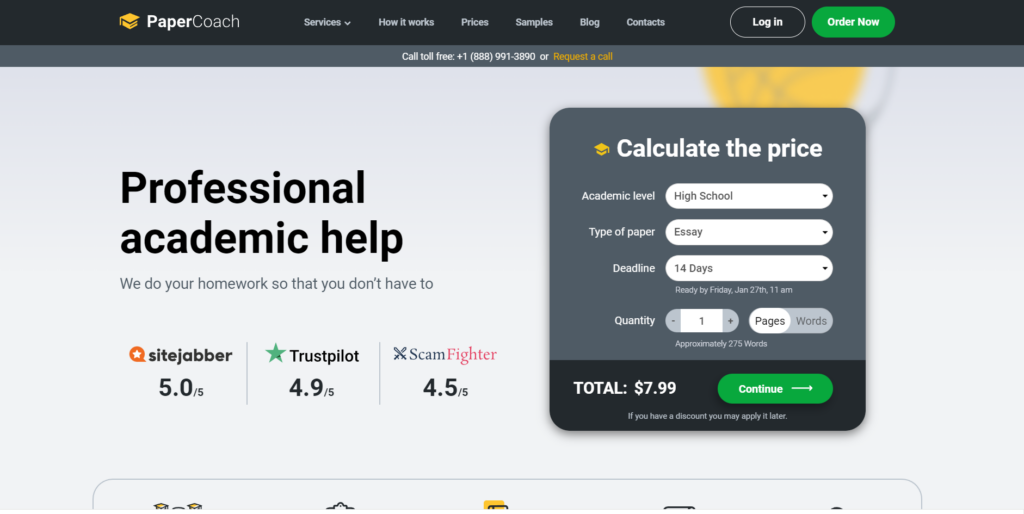 The site offers excellent features like partial payments, free revision, etc. In addition, the site has a built-in payment calculator where you can calculate your payment information.
However, the earnings depend on several things, such as task complexity and academic level. You can estimate it around 8$ or above.
6. Toppr
Toppr is the modern way of digitizing education. The platform tries to transform the way students learn by utilizing the internet. All the concepts and stories related to the syllabus are free. The paid plan is more suitable for the best experience. Still, you are getting it pretty much for free.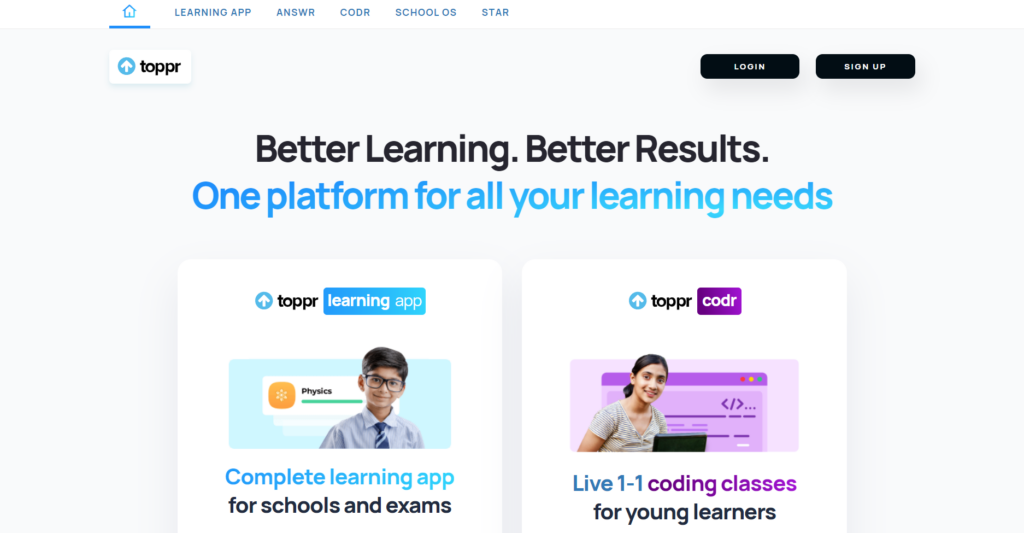 Toppr offers services to classes from 5th to 12th from ICSE, CBSE, IGCSE, and some state boards. In addition, they have learning problems for more than twenty competitive exams.
If you want to join Toppr, then you have two options. Either you can join as a tutor or a student. If you join them as a tutor, you can make a good amount of money.
7. Eduboard
Eduboard is another great online platform where you can earn money by doing homework. The platform lets you ask questions to experts in the field. Moreover, it offers services in more than 30 subjects.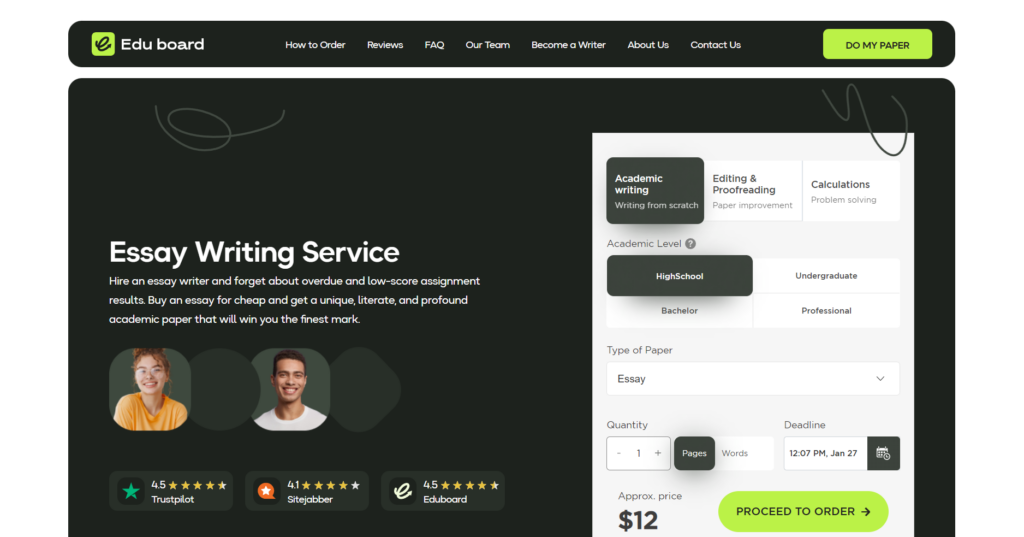 If you need help with your studies, visit the site. You can offer your expertise if you'd like to earn with the platform. The site charges 20% as a commission.
8. Help with Assignment
As the name suggests, help with assignments is a platform for helping students with their study issues. It is formed by experts such as mathematicians, writers, accountants, etc. Unlike other platforms, their policy is different.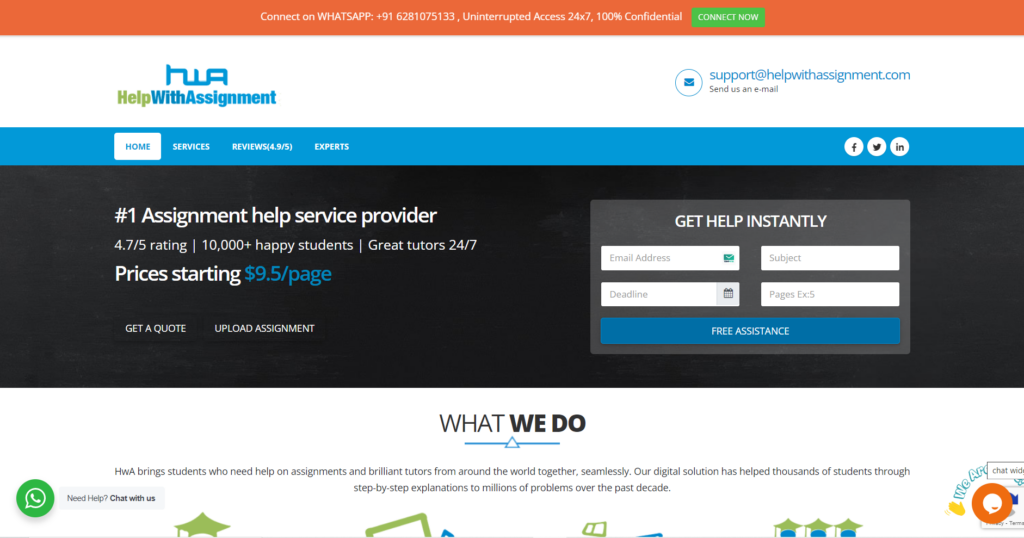 If you want to use this platform as a student, please go ahead and upload your task and pay the asked fee. They will process your requests in between you can track your task.
On the other hand, if you want to become a member, the process is more complex than on other platforms. You must have at least two years of teaching experience before joining it. In addition, you need to have a Ph.D. or master's degree in your field.
9. Freelancer
Freelancer is a platform primarily created for online professionals such as developers, designers, and other experts. You will find plenty of these jobs in the portal. If you are wondering why I am mentioning this platform here, you can earn money by doing homework or assignment.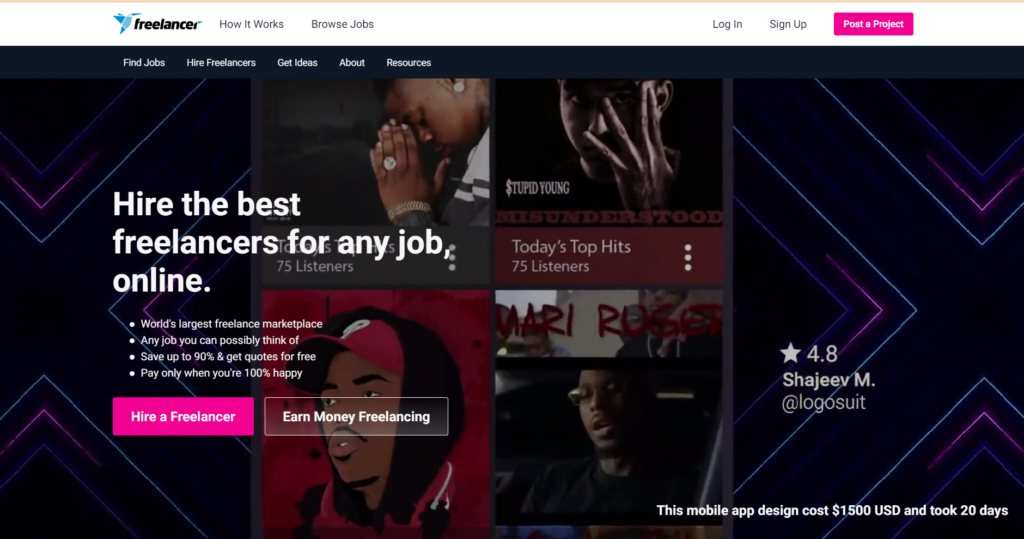 I know it feels strange, but students visit here looking for someone who can complete their work. If you want to earn money here, you need to create your profile so that these students can reach you.
10. Tutorme.com
Tutorme is an excellent platform for students and teachers looking to share their services and earn money by doing homework. It offers one-on-one sessions; even better, it is on demand.
To have a more impact on students and teachers, tutorme.com partners with schools and districts. While researching, I found that the chances of getting questions for teachers are on the higher side compared to other platforms.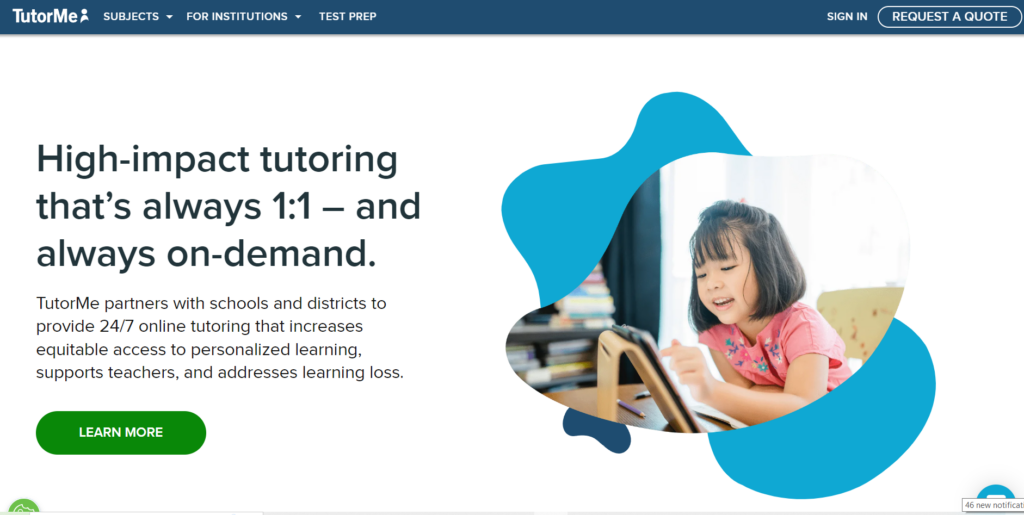 Moreover, the support is excellent. If you are in trouble, you can ask for help. The chances are high that they will solve your query in a short time. In addition, it lets you change your subject at any time, which is rare.
If you want to join them, you can by visiting the site. Their selection process is relatively easy. Just work on your application, and you can join them.
11. SweetStudy
SweetStudy works like a chain between students and teachers. Users can complete students' work here and get money for their work. However, if you think teachers will complete the homework for you, then this will not happen.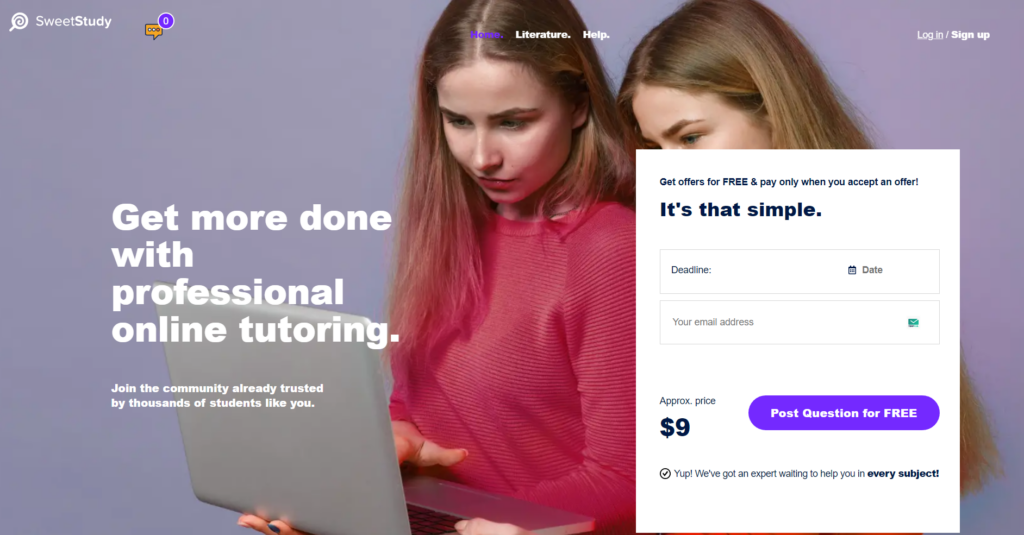 Jokes aside, you can proofread the work and answer questions if you grasp your subject well. Once you complete your profile and set your rates, you can earn around $5 to 25$ per homework assignment.
Final Thoughts
These were the top ten best ways to earn money: tutoring or homework. These platforms are great ways to revolutionize students' and teachers' lives. Some years ago, most of us couldn't imagine such things.
You can use these sites if you have the skills and passion for your work. The good thing is you can do all these while sitting in your home.
All the platforms mentioned here are secure and trusted. However, these are not ranking, so you can choose what's right for you. The reason for not ranking is that we can't say a single platform is best, as it depends on several factors. Some are easy to join, while others have complex criteria.
As a whole, this was for information purposes. I would like you to research and choose according to your conditions.
You can check our guide on the best train status-tracking apps in India.
Have you ever used a similar platform before? Let us know in the comments below.